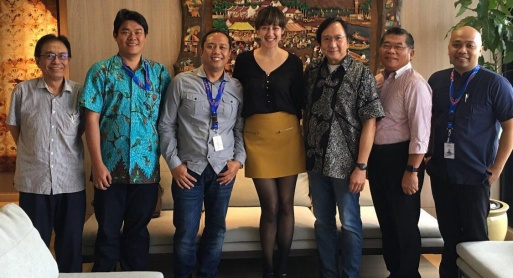 Changes of Corporate Secretary PT Erajaya Swasembada Tbk
Jakarta, August 22, 2016 - In accordance with Otoritas Jasa Keuangan Regulation No 35/POJK.04/2014 dated December 8, 2014 on Corporate Secretary of Listed or Public Company, the Decree of the Board of Director of PT Bursa Efek Jakarta No : Kep-306/BEJ/07-2004 dated July 19, 2004 on Appointment or Replacement of Corporate Secretary, and based on the Decree of the Board of Director of the Company No 159/SK-DIR/ERAA/VIII/2016 dated August 18, 2016, the Company appointed Amelia Allen as Corporate Secretary of the Company replacing Djatmiko Wardoyo.
Below is brief biography of Amelia Allen :
Amelia Allen, Indonesian Citizen. She received Bachelor's Degree in Law from Faculty of Law University of Indonesia majoring in Economics Law, and Diploma of French Literature from Faculty of Humanities University of Indonesia. Before joining PT Erajaya Swasembada Tbk as Head of Legal Department (2013-present), she joined Hadiputranto, Hadinoto and Partner Law Firm as Internee (2006), DNC Advocates at Work as Legal Associate (2006-2007), and PT Trimegah Securities Tbk Auditas Legal Officer with last position as Head Legal & Compliance (2007-2013).