Jakarta, 17 Oktober 2022 – Erajaya Active Lifestyle announced the availability of the best action camera ever made by DJI, the Osmo Action 3 for the Indonesian market on their retail network starting October 17, 2022. Starting at a price of 5 million, the DJI Osmo Action offers a number of advantages such as photo and video quality, result stabilization technology recording, resistance to extreme environments, and support for vertically-formatted content.
Djohan Sutanto, CEO Erajaya Active Lifestyle said "We are delighted that DJI is presenting the latest in the Osmo Action series of action cameras. This model has proven to have a lot of powerful features for personal use or professional content creation. It's no wonder that every launch of a new model is always awaited by its fans, and we predict this latest model will be as successful as the previous model. We believe that with the DJI Osmo Action 3, no important and precious moment will be missed."
The DJI Osmo Action offers a number of improvements over the previous model as well as new features that will keep both old and new users interested. The camera with a shooting angle of 155° is capable of recording videos with 4K resolution at 120fps, D-Cinelike Color Mode is here for video recording, slow-motion and timelapse giving creativity room for the editing process.
DJI Osmo Action users will also enjoy stable video results thanks to Rocksteady 3.0 technology which automatically dampens shock from all directions and makes the video flow smoothly. The HorizonSteady feature also ensures that the horizon line is maintained without going through post-production. The HorizonBalancing feature is here for 4K/60fps video capture which ensures stable 4K images.
This action camera is also resistant to a variety of extreme conditions. Extreme Battery 1770 mAh can withstand temperatures up to -20°C and can record up to 160 minutes and only takes 18 minutes to charge from 0 to 80%. The body design of the DJI Osmo Action 3 is waterproof and can be carried to a depth of 16 meters without additional housing.
DJI Osmo Action 3 also indulges content creators on social media with a vertical orientation through the Horizontal-Vertical Protective Frame which makes it easy for users to quickly switch camera orientations so that their content will suit the needs of each social media platform.
The DJI Osmo Action 3 action camera comes in two sales package options, Standard Combo and Adventure Combo, which can be found at the DJI Experience Store, Urban Republic, Erafone, iBox, the Eraspace.com e-commerce page, and the DJI Official Store on the Tokopedia marketplace platform. , Shopee, Blibli, Bukalapak and Lazada.
Following are the details of the DJI Osmo Action 3 sales package: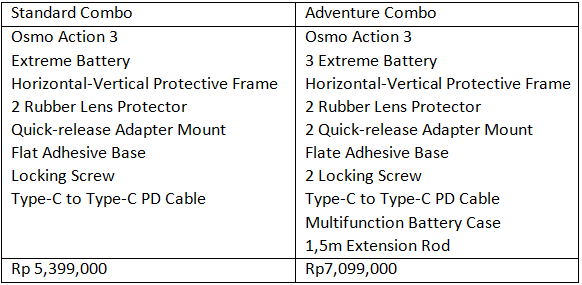 For further information, please contact:
Didit Putra Erlangga
Public Relations Erajaya Group