Jakarta, 26 July 2023 – Erajaya Active Lifestyle announced the availability of the newest drone from DJI namely Air 3 which comes with two main cameras as well as a number of significant improvements from the previous series. Customers can take advantage of the pre-order session that takes place from today to 8 August 2023 to ensure that they can get DJI Air 3 when it is officially sold on 9 August 2023 at the Erajaya Group retail network.
Djohan Sutanto, CEO Erajaya Active Lifestyle, said, "For Erajaya Active Lifestyle, drones are a product that supports an active lifestyle with tremendous potential. Indonesia's drone market potential in 2023 is predicted to reach US$6.15 million and will grow with a CAGR of 8.10% until 2028[1]. The DJI Air 3 is a drone that new drone pilots, owners of previous Air series drones or owners of the Mini series should consider. We are optimistic that DJI Air 3 will be welcomed by content creators because this drone is in the sweet spot between technology, design and price offered."
DJI Air 3 is the first Air series drone that offers professional features to its users such as two main cameras, omnidirectional obstacle sensing and light weight at only 720 grams.
Two main cameras
DJI Air 3 allows drone pilots to be able to get consistent photo and video quality when shooting at wide-angle or medium telephoto, giving them creative freedom to produce aerial content. This is possible thanks to the two cameras installed on the drone, each using the same sensor, namely 1/1.3" CMOS with a difference in the focal distance, namely a 24mm equivalent wide camera with f1.7 aperture and a 70mm equivalent medium tele camera with f2 aperture. 8.
The medium tele camera allows 3x optical zoom and produces a spatial compression effect that brings the subject closer to the background. These two cameras allow the drone pilot to record panoramas with the wide camera and then immediately switch to the medium tele camera to capture detailed subjects.
Both cameras support the dual native ISO feature so they can record high dynamic range 4K/60fps and 4K/100fps videos and support 10-bit D Log M which will make post production easier because they are able to maintain detail and color. From a photography standpoint, these two cameras can take pictures with a resolution of 48MP which not only records details but also makes cropping easier in adjusting the composition.
The 2.7K vertical video capture feature was introduced for the first time by DJI in this drone series via Air 3. Thus, users can immediately upload the video on social media.
Fly more confidently
The advantage of DJI Air 3 also lies in its flight time which has now reached a maximum of 46 minutes so that drone pilots have more opportunities to take pictures and fly drones longer without having to worry.
Drone pilots also don't need to worry while flying DJI Air 3 thanks to the omnidirectional obstacle sensing feature that is presented for the first time for an Air series like this which allows drones to be aware of obstacles in all directions. Advanced Pilot Assistance System (APAS) 5.0 technology will actively guide the drone to find the best route to avoid obstacles and ensure to get the best pictures from the air.
Another advantage is the use of the O4 video transmission system which not only supports video transmission distances of up to 20 kilometers[2], but also ensures uninterrupted image supply to the controlling device.
Another feature that makes its first appearance in the Air series with DJI Air 3 is Waypoint Flight which allows drone pilots to plan flight routes and shoot shots even before takeoff. Pilots can save flight routes to repeat their flight at a different time to get stunning transition images.
Three purchase options
Erajaya Active Lifestyle offers three DJI Air 3 purchase packages to answer the needs of each user: DJI Air 3 Basic, DJI Air 3 Fly More Combo (DJI RC N2) and DJI Air 3 Fly More Combo (DJI RC 2). The following describes the three packages: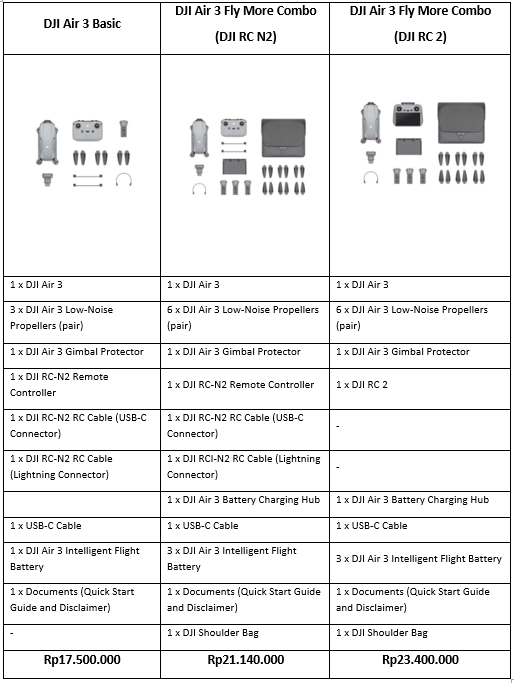 The pre-order session is open until 8 August 2023, and open sales will be carried out on 9 August 2023 through the Erajaya outlet network, namely DJI Experience Store, Urban Republic, Erafone, iBox, DJI authorized dealers, as well as the Eraspace.com e-commerce page, DJI Official Store on the Tokopedia, Shopee and Blibli marketplaces.
For further information, please contact:
Didit Putra Erlangga
Public Relations Erajaya Group