Jakarta, 20 January 2023 – Erajaya Active Lifestyle, through the Urban Republic network, exclusively offers three gaming headset products from the Razer brand, the Kaira X, Kaira HyperSpeed, and Kaira Pro HyperSpeed, which pamper gamers in Indonesia. With an official license from Sony Playstation, these three headsets offer a more immersive experience during gameplay, as well as for other gaming platforms.
Djohan Sutanto, CEO of Erajaya Active Lifestyle "Erajaya Active Lifestyle is proud to present simultaneously three gaming headset products from Razer that can be obtained exclusively through the Urban Republic network, which serves as a destination for lifestyle gadget shopping that supports lifestyles and the need for technological products. The Razer Kaira Series gaming headset trio is believed to bring the best audio and microphone quality that will enhance the immersive experience while playing games. We are confident that this product will be the first choice for gamers in Indonesia."
The Kaira series gaming headset offers advantages in ensuring victory in gaming competitions thanks to features such as the Razer™ TriForce 50mm Drivers that can process high, medium, and low tones separately, resulting in better detail and powerful bass. The Razer™ HyperClear Cardioid Mic feature is a bendable mic that ensures the player's voice is captured clearly without interference from sounds around. The Razer™ Flowknit Memory Cushions also provide comfort for the user's ears even during long gaming sessions.
Kaira X is a wired gaming headset with a 3.5mm jack that is not only effective when playing Playstation consoles, but also other gaming platforms with the audio and mic advantages from Razer. Its design is also in line with the design of the Playstation®5 console and controller to support the user's lifestyle.
Kaira HyperSpeed is a wireless headset that comes with low latency audio connectivity to ensure direct communication through the Razer™ HyperSpeed Wireless feature, and a battery life of up to 30 hours ensures this device is always available to accompany the user's gaming session.
The Kaira Pro HyperSpeed takes the superiority of the Kaira gaming headset series even further with the Razer™ TriForce Titanium 50mm Drivers feature, which provides a richer detail audio quality for a more immersive gaming experience. The same goes for the external Razer™ HyperClear Supercardioid Mic that has Environmental Noise Canceling (ENC) function to reduce noise around the user, or it can be removed and take advantage of the internal mic for easier communication.
As a product with a license from Playstation, the Kaira Pro HyperSpeed has the Razer™ HyperSense Haptics feature, which provides vibration feedback based on the audio being played to deliver an immersive experience when connected to the Playstation 5 console.
The three Razer headset products are exclusively available at Urban Republic stores, the e-commerce website eraspace.com, and the Urban Republic Official Store on Tokopedia and Shopee. Customers can enjoy special offers such as the exclusive price of Kaira X at IDR 959,000, Kaira HyperSpeed at IDR 2,199,000, and Kaira Pro HyperSpeed at IDR 3,099,000, offered until January 31st, 2023 for purchases at Urban Republic stores, the e-commerce website eraspace.com, and the UR Official Store on Tokopedia. Buyers on the Tokopedia platform can also get an additional benefit of 5% cashback up to IDR 150,000. Every purchase of these gaming headsets will also receive a free Razer DeathAdder Essential Gaming Mouse worth IDR 260,000*.
Here are the specs of three headset Kaira series: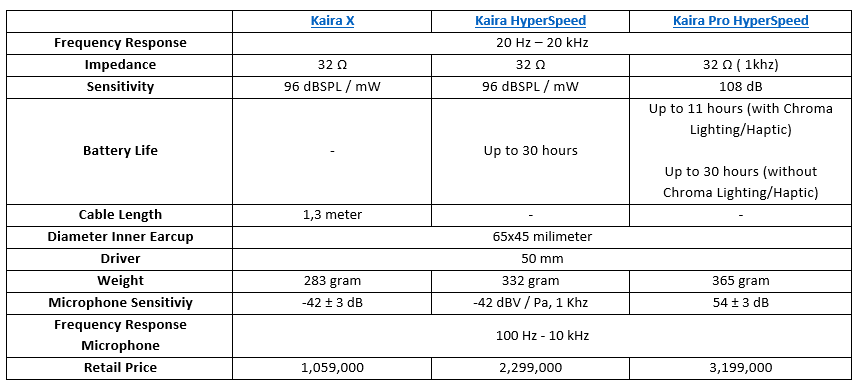 *Terms and Conditions Apply
For further information, please contact:
Didit Putra Erlangga
Public Relations Erajaya Group