Jakarta, 9 December 2022 – Erajaya Active Lifestyle officially opens preorders for the compact and ultra-light drone that DJI just introduced, namely the DJI Mini 3, on 9-17 December 2022. This drone also comes with a number of advantages in documenting the user's best moments and accompanying their adventures. Users can choose from two sales packages, namely "DJI Mini 3 Fly Combo Plus" and "DJI Mini 3 Fly More Combo Plus (DJI RC)."
Djohan Sutanto, CEO Erajaya Active Lifestyle said "Erajaya Active Lifestyle is proud to present DJI Mini 3 which has a compact design and very light weight so we believe it will be the best choice to accompany the adventures of every user. A number of features are here to make it easier to create cinematic pictures and photos from the air, including shooting in vertical format for needs on social media. We are very optimistic that this product will become the first choice in supporting the active lifestyle of users, and continuing the success story of the previous series."
DJI Mini 3 comes with a number of advantages, such as a compact size and a weight of only 249 grams which allows it to be exempted from drone regulations in a number of countries so that users can take it anywhere. This drone has a 1/1.3 inch CMOS sensor and f/1.7 aperture which allows for greater resolution, sharper images and low noise. The True Vertical Shooting feature will rotate the camera 90 degrees and record content vertically for social media.
The Intelligent Flight Battery ensures that the DJI Mini 3 has up to 38 minutes of flight time, and users can also use the Intelligent Flight Battery Plus for a longer flight time of up to 51 minutes. Likewise, the DJI O2 video transmission technology is capable of sending live images with a resolution of 720p/30fps from a distance of up to 10 kilometers during flight thanks to anti-interference technology. This drone can fly stably to take pictures without shaking with wind resistance of up to 10.7 meters per second.
The QuickShots feature makes it easy for users to capture their important moments with a series of flight paths and pre-programmed recordings for stunning results, some of which include Dronie, Helix, Rocket, Circle and Boomerang. It's easier for users to fly drones thanks to smart functions such as Auto Takeoff to take off immediately or Return to Home which makes the drone return to its starting point immediately when the signal is weak or the battery is running low.
DJI Mini 3 can be obtained via preorder which opens December 9-17 at the DJI Experience Store, Urban Repulic, iBox, Erafone, official DJI dealers, e-commerce site eraspace.com and DJI Official Store at Blibli, Bukalapak, JD.id , Lazada, Shopee and Tokopedia. There are two purchase packages to choose from, namely the DJI Mini 3 Fly More Combo Plus for Rp. 11,650,000 and the DJI Mini 3 Fly More Combo Plus (DJI RC) package for Rp. 14,000,000.
The following sales packages are offered: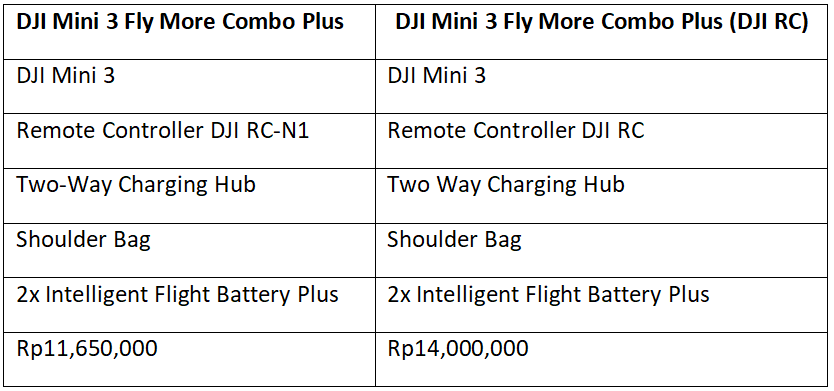 For further information, please contact:
Didit Putra Erlangga
Public Relations Erajaya Group