Jakarta, 29 March 2023 – Erajaya Active Lifestyle introduces a new way to fly DJI Avata drones through DJI Goggles Integra and DJI RC Motion 2, which are officially available at the Erajaya Group retail network with the latest sales packages. These two devices provide an increasingly immersive experience in flying DJI Avata through full control and comfort while flying a drone from a first-person perspective.
Djohan Sutanto, CEO Erajaya Active Lifestyle said "Continuing our commitment to always present a complete and relevant portfolio, we are proud to present two of the newest drone accessories, namely DJI Goggles Integra and DJI RC Motion 2, to make the experience of using the DJI Avata drone more immersive. Research data shows a tremendous increase in the use of drones, drone goggles and other accessories, driven by demand from amateur users and increasing product capabilities. It is even suspected that the goggles category will grow with a CAGR of 15.4% until 2028*. We are sure that the two products introduced this time will be accepted and become the best choice for drone pilots to produce impressive content."
DJI Goggles Integra is an FPV (first person view) goggle that allows drone pilots to freely control remotely without having to deal with cables. This device offers up to 2 hours of play time thanks to a light weight battery that makes it comfortable to use. A pair of Micro-OLED displays with 1080p resolution delivers rich colors and sharp details at up to 700 nits brightness. The DJI Goggles Integra screen has a 100Hz refresh rate and TÜV Rheinland Low Blue Light certification to ensure the image is pleasing to the eye. O3+ video transmission technology offers stable, low-latency video transmission from drone to pilot.
DJI Goggles Integra users can use the DJI Fly application to connect with their smartphone to share what is being viewed through the glasses to the smartphone screen. In this way, the captivating pictures taken during the flight can be enjoyed together in real time.
Meanwhile, DJI RC Motion 2 makes it easier to control drones in the air thanks to improved motion sensor and joystick technology so that all pilots with all levels of proficiency can operate them. The controller is equipped with a joystick that supports flight in all directions, including vertical, reverse and sideways flight. DJI RC Motion 2 enables every drone pilot to perform complex maneuvers with confidence.
The following are the prices for the devices as well as the latest sales packages: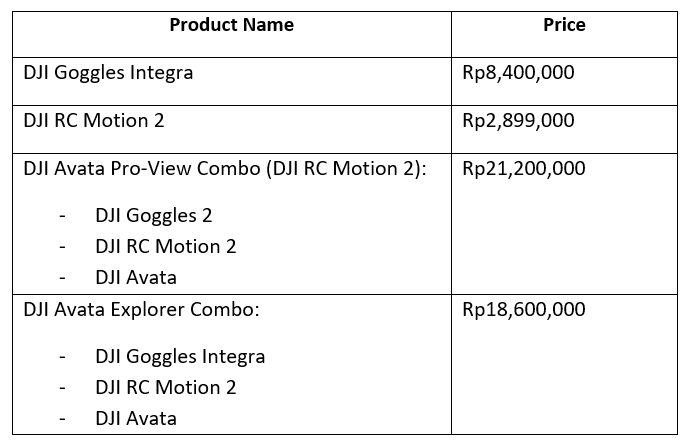 Both DJI Goggles Integra and DJI RC Motion 2 can be ordered through a preorder session which takes place on March 28 - April 5 at the DJI Experience Store and DJI Official Store on the Tokopedia, Shopee, Blibli, Lazada and Bukalapak platforms. Sales will be made from April 6 which is also available in other outlets such as Urban Republic, Erafone, iBox, official DJI dealers and the eraspace.com e-commerce page. Users who have previously purchased and activated the DJI Avata Fly Smart Combo or Pro-View Combo are entitled to enjoy the exclusive service of upgrading the controller to RC Motion 2 by paying only IDR 1,189,000 which starts on March 15 and applies to users who have purchased and activated the unit. before July 1, 2023.
*Business Research Insights, June 2022
For further information, please contact:
Didit Putra Erlangga
Public Relations Erajaya Group