Jakarta, 28 April 2023 – Erajaya Active Lifestyle ensures the presence of the newest DJI Mavic 3 Pro flagship drone in Indonesia which will answer the needs of aerial photo and video content creators. Comes with a triple camera system, DJI Mavic 3 Pro presents a new standard of imaging capabilities to tell stories through photos and create cinematic video masterpieces. The pre-order session will take place from 25 April to 11 May 2023.
Djohan Sutanto, CEO Erajaya Active Lifestyle, said, "DJI Mavic 3 Pro is the newest member of the DJI product portfolio that we present to drone pilots who want to produce cinematic and one-of-a-kind content through a triple camera system. The demand for aerial photographic and videographic content is one of the driving forces for the growth of the drone market in the world, and it is even believed that it will continue to grow with a CAGR of more than 29% until 2028. We are sure that the presence of DJI Mavic 3 Pro has been eagerly awaited by many content creators who do not want to compromise in terms of quality."
Mavic 3 Pro is a drone that is equipped with three cameras at once with focal distances of 24mm, 70mm and 166mm which fulfill various aerial shooting scenarios. The drone's flight time reaches 43 minutes, giving pilots more opportunities to take pictures. Omnidirectional sensing technology and APAS 5.0 guarantee a safe flight route from obstacles.
The shooting features offered by the DJI Mavic 3 Pro make it ideal for both experienced and novice drone pilots to create stunning content with simple commands such as FocusTrack, MasterShots, QuickShots and Panorama.
Erajaya Active Lifestyle offers three DJI Mavic 3 Pro drone purchase packages that are here to answer the unique needs of each user: DJI Mavic 3 Pro (DJI RC), DJI Mavic 3 Pro Fly More Combo (DJI RC) and DJI Mavic 3 Pro Fly More Combo (DJI RC Pro). The following is a description of each sales package: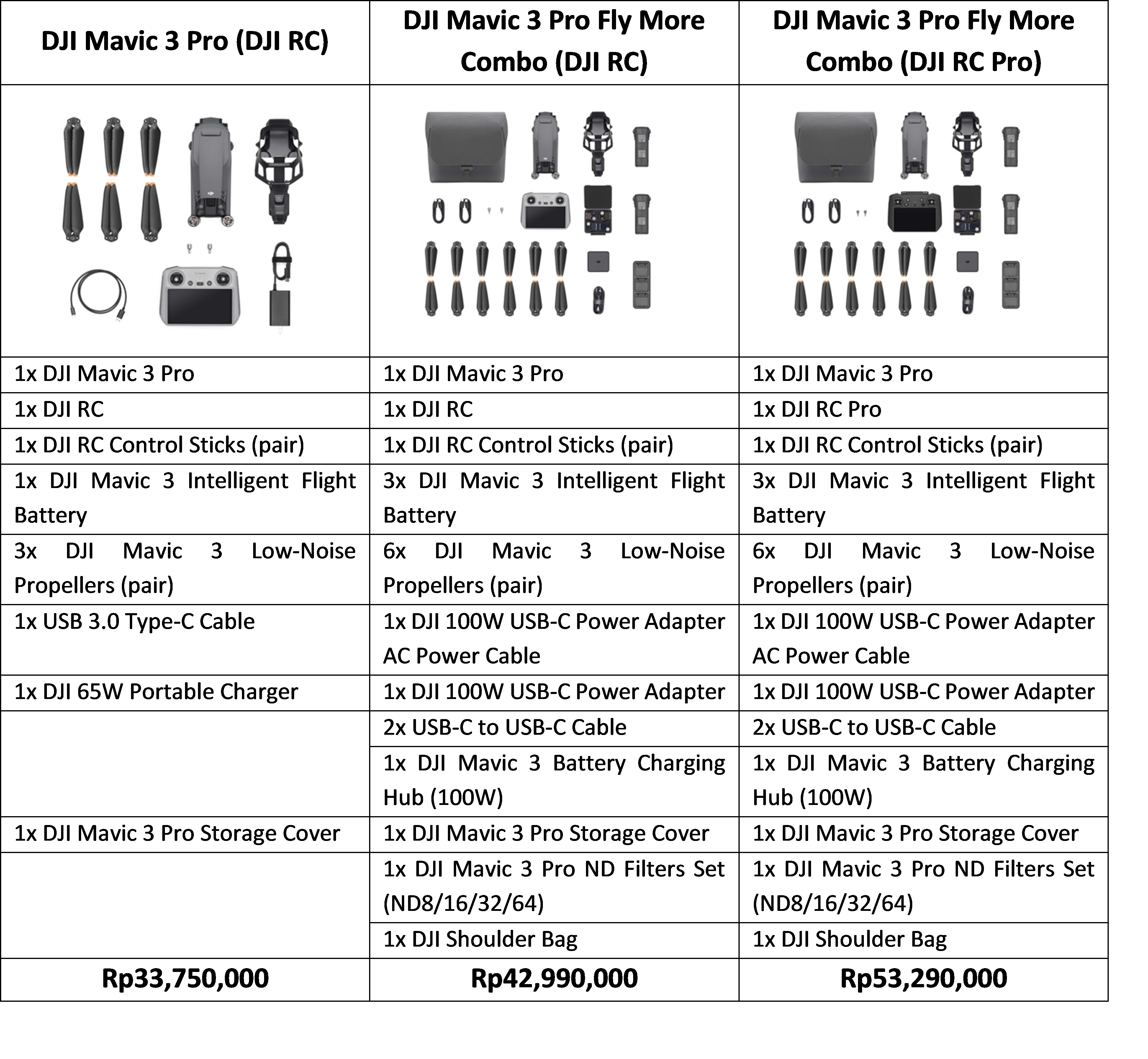 Pre-orders can be made from April 25 to May 11 2023 through the Erajaya outlet network, namely the DJI Experience Store, Urban Republic, Erafone, iBox, DJI official dealers, as well as the Eraspace.com e-commerce page, DJI Official Store on the Tokopedia marketplace, Shopee and Blibli. This product will be available on the same channel starting May 12, 2023.
For further information, please contact:
Didit Putra Erlangga
Public Relations Erajaya Group