Denpasar, 14 April 2023 – Erajaya Active Lifestyle introduces Urban Republic and Garmin Brand Store outlets with a street concept which opened for the first time on Jl. Teuku Umar, Denpasar, Bali. This concept makes these outlets easily accessible, open for various activities and events, and has high visibility, which makes them the most complete and widest lifestyle gadget shopping destination in Bali. This opening is part of the inauguration of 11 new Urban Republic outlets and Garmin Brand Stores in several cities in Indonesia simultaneously, such as Jakarta, Makassar, Pontianak, Semarang and Solo.
Djohan Sutanto, CEO Erajaya Active Lifestyle said "We are proud to be able to present two outlets with this latest concept in Bali. The shopping experience for active lifestyle support products will be even more fun and immersive. Erajaya Active Lifestyle is aware of the trend that physical outlets are no longer just a place for transactions, but also part of their interactions with brands and products. In addition to these 2 stores in Bali, we also opened 11 new outlets in 6 other cities, in line with our commitment to be closer to our customers, active lifestyle connoisseurs."
To celebrate the opening of the two outlets, on April 14-16 a number of workshops and activities will be held to introduce product features that present qualified speakers. This includes a photography workshop with GoPro on April 14 and a drone workshop with DJI on April 15. Meanwhile, the Run Bali Event was held on April 16 by Urban Republic with the Garmin, IT (Immersive Tech) and SHOKZ brands.
The following is a list of 11 Urban Republic and Garmin Brand Store outlets which were inaugurated simultaneously: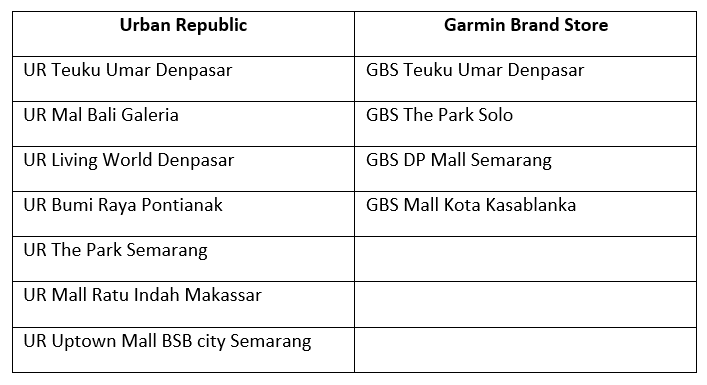 Visitors to the 7 newly opened Urban Republic outlets have the opportunity to enjoy a number of attractive promos during April 14-16: Gadget Attack starting at IDR 5,000, discounts up to 88% and bank promos in the form of 0% installments up to 24 months for card users certain banks. Likewise, visitors to the 4 newest Garmin Brand Store outlets in the same period can take advantage of up to 25% discounts, free watch straps for every product purchase, as well as 0% up to 24 months installment promos for certain banks.
For further information, please contact:
Didit Putra Erlangga
Public Relations Erajaya Group