Jakarta, 14 April 2023 – Erajaya Digital opened the second quarter of 2023 by inaugurating 51 new retail outlets across the islands of Java, Kalimantan, Maluku, Sumatra and Sulawesi. The continued expansion of the retail footprint is a commitment from Erajaya Digital so that more customers can access gadgets, accessories and IoT devices with an omnichannel shopping experience.
A number of important notes in the inauguration this time:
Erafone Ruko Kolaka is the first Erafone outlet in Kolaka Regency as well as the second Erafone outlet in Southeast Sulawesi Province.
Erafone Ruko Petung Penajam became the first Erafone outlet in North Penajam Paser Regency, East Kalimantan Province.
Erafone Ruko Tomohon is the first Erafone outlet in Tomohon City, North Sulawesi Province.
Xiaomi Store Maluku City Mall is the first Xiaomi Store outlet in Maluku and its surroundings.
Erajaya Digital inaugurated 51 new outlets consisting of 49 Erafone outlets, 1 iBox and 2 Xiaomi Stores.
Joy Wahjudi, CEO Erajaya Digital, said, "Adhering to our commitment, Erajaya Digital continues to expand and serve new customers by opening 51 retail outlets spread across various regions in Indonesia, including in many new cities. Based on a report from We Are Social in January 2023, the internet penetration rate in Indonesia has reached 77% of the total population or 212.9 million people, and of that population 98.3% are connected to the internet using smartphones. Through our increasingly widespread outlets, it is easier for customers to get their dream smartphone, especially with the availability of services such as Upgrade Terusss!, Click n' Pickup and Mobile Shopping."
The following is a list of new outlets inaugurated by Erajaya Digital this time: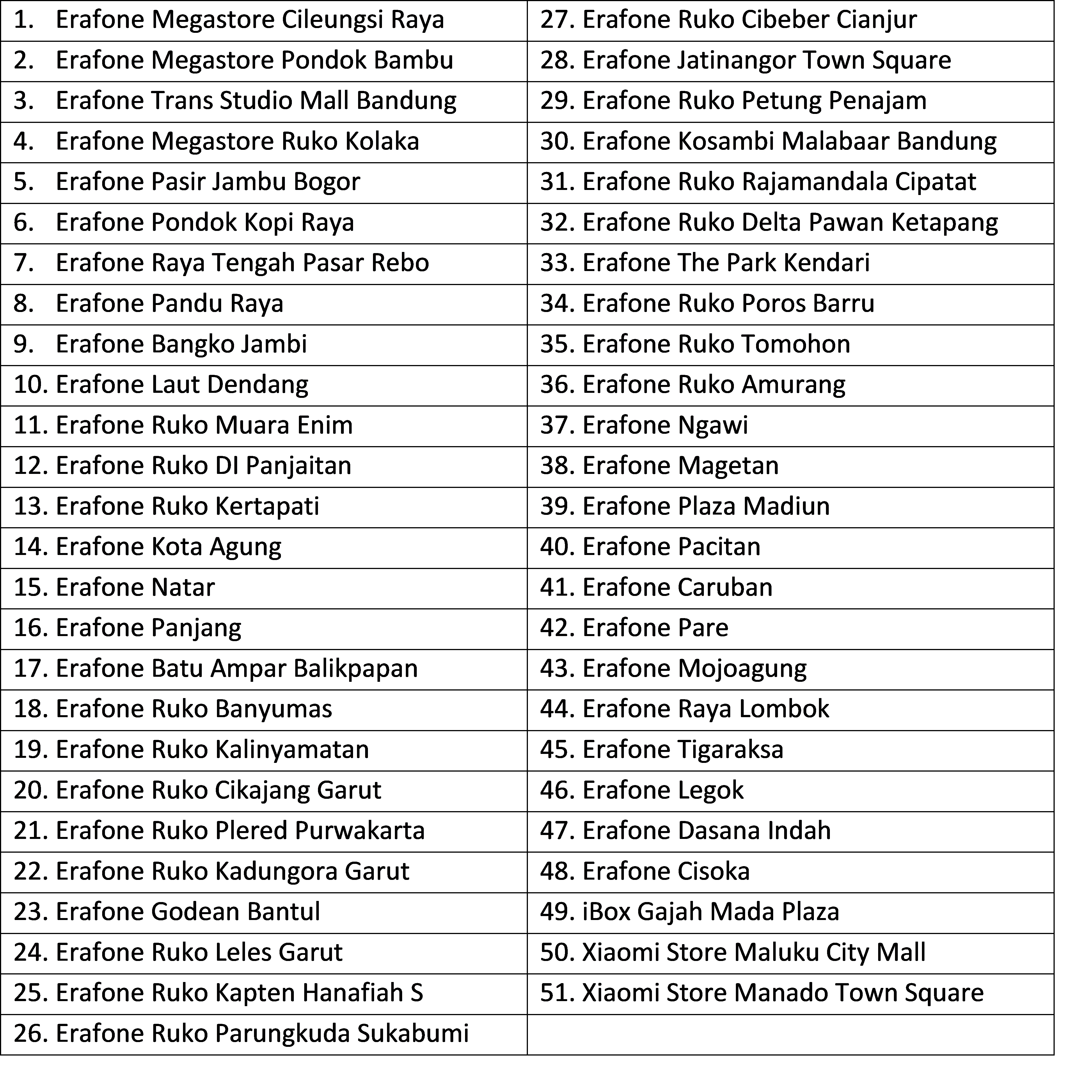 Customers are entitled to enjoy attractive promos during the grand opening period which takes place on 14-16 April 2023 at certain outlets *.
Shopping vouchers of up to IDR 500,000 for smartphone purchases.
Discounts up to IDR 3,200,000.
Flash sale of ecosystem products from Xiaomi starting from IDR 49,000 (Xiaomi Store only).
Special prices for Xiaomi smartphone and television products (especially for Xiaomi Store).
Opportunity to get a direct prize for a minimum purchase of IDR 2,500,000.
Additional discount of up to IDR 750,000 for BRI debit card holders.
Additional discounts of up to IDR 750,000 and 0% installments for up to 24 months for BCA, BSI and Mandiri credit card holders at certain Erafone outlets.
Additional discounts of up to IDR 300,000 and 0% installments for up to 12 months for BRI debit card and BCA, BRI and Mandiri credit card holders at the Xiaomi Store.
Installments without a credit card through offers from financing partners.
terms and Conditions apply
For further information, please contact:
Didit Putra Erlangga
Public Relations Erajaya Group