Jakarta, September 16 2020 – In the series of EraVersary 2020 programs, Erajaya Group for the first time held the Erafone Fair 2020 online through the erafone.com platform. This event takes place from September 14 to September 20, 2020, by offering gadgets and lifestyle technology with special price offers. Apart from that, the event this time also featured smartphone exchange services online, clearance sales, gadget auctions, as well as various online and social media activities.
Hasan Aula, CEO of Erajaya Group, revealed "The current pandemic condition has greatly reduced human mobility outside the home. As a result, we see a behavioural shift, in which many consumer activities shift from offline to online, including shopping, consistent with findings in research results from the new McKinsey consulting firm. -recently. The Erafone Fair 2020 event takes advantage of this change by providing the best offers to our customers who need gadgets, ecosystems and accessories through our online platform, erafone.com"
By carrying out the campaign theme #PastiTerjamin, through Erafone Fair 2020, Erajaya Group also reaffirms its commitment and focus on customer satisfaction, among others by providing (1) guarantee of officially guaranteed products, (2) guaranteed friendly service, (3) guarantee of convenience transactions and (4) guarantee the ease of delivery of products, with options: can be picked up at the store (Click & PickUp), delivered to the house for free (EraExpress) or sent by courier. This shows Erajaya's seriousness as the largest gadget, accessories and Internet of Things (IoT) distributor in Indonesia to always provide a diverse and up-to-date product range, supported by trusted after-sales service.
Various special offers are offered through the Erafone Fair 2020, including:
Discounts for smartphones of up to IDR 6,000,000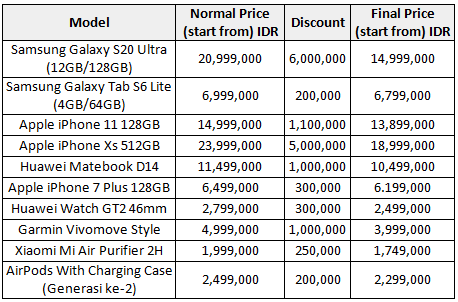 Clearance sale for smartphones starting at IDR 549,000 and accessories starting at IDR 10,000
Smartphone auction, starting at IDR 799,000
Special offers for unlimited data packages from operators Indosat, XL, Telkomsel and Smartfren, starting from IDR 50,000 / month, for every smartphone purchase
Online Trade-In, additional cashback up to IDR 1,150,000. More info can be found at: eraspace.com/trade-in
Special offers for Eraclub members: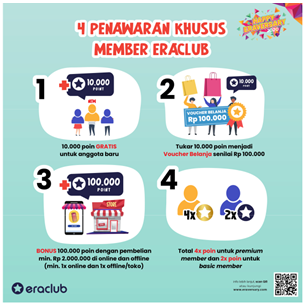 Additional discount up to IDR 750,000 with 0% installments up to 12 months * using BCA, BNI, CIMB Niaga, Citibank, HSBC and Mandiri Credit Cards.
And many other interesting programs, details of which can be found on the erafone.com site
* Terms and conditions apply
For More Information, please contact:
Diah Kencana Sari
Public Relations Erajaya Group
M: 0812 1801 6508
E: diah.sari@erajaya.com