Jakarta, April 21 2020 – In order to celebrate Ramadan and celebrate Eid Al-Fitr, Erajaya Group is holding the Erajaya Leasing Fair for the first time. This new program aims to provide payment options using the instalment method without using a credit card. In collaboration with various financing partners of Erajaya Group such as HCI, Kredit Plus, Megazip, Payku, Aeon, BAF, Samsung F + and Kredivo, customers can enjoy instalments with 0% interest up to 2 (two) free instalments. This offer is valid from 8 April to 9 May 2021 by making transactions at Erafone, iBox, Samsung by NASA, Mi Store, and Urban Republic offline stores.
Hasan Aula, Vice President Director Erajaya Group, said "The moments of Ramadan and Eid are usually inseparable from the tradition of buying new clothes, new shoes and new gadgets. Erajaya, in collaboration with selected financing partners, presents a promotional program designed to help people get their ideal gadget product using a lightweight and easy payment method. an easy process, namely instalments without using a credit card. This is the first promotional program that raises the concept of leasing. We hope this new payment option can provide a positive customer experience for our customers who are looking for original products with reliable after-sales service."
In this Erajaya Leasing Fair, Erajaya financing partners come with attractive and exclusive offers that customers can enjoy until May 9, 2021. The details are as follows: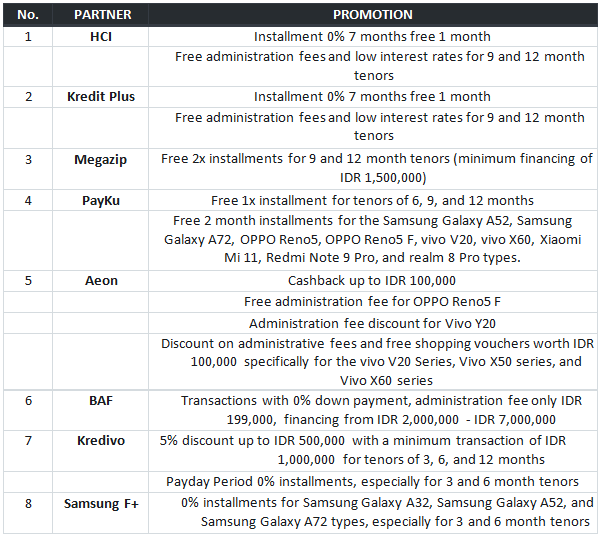 * Terms and Conditions apply. For more info and other interesting offers, please visit eraspace.com.






For further information, please contact:
Diah Kencana Sari
Public Relations Erajaya Group