Jakarta, 25 October 2021 – The lifestyle product ecosystem brand, IT: Immersive Tech, officially presents premium smart home products at affordable prices in Indonesia. Carrying the tagline "Home Smart Home", this series of IoT (Internet of Things) products as a result of a synergistic collaboration between Erajaya Active Lifestyle presents a new way of life that is healthier, more comfortable and safer, especially during a pandemic like today when people are more active at home.
This smart home product range is integrated with the IT Smart application which was developed in collaboration with Tuya Smart. Customers can easily use and control all IT Smart Home products anywhere, anytime, through any smartphone, with just 1 application. The features contained in the IT Smart application allow access and control to be carried out in real-time and shared by several other family members. The IT Smart application is available and can be downloaded for free on the Google Play Store and Apple App Store.
"The global smart home market is predicted to reach a value of USD$174 billion by 2025*. IT: Immersive Tech comes with its smart home portfolio at the right time. Technology that is increasingly user friendly, interoperability and improved connectivity will accelerate the adoption of such devices in Indonesia. The launch of the IT Smart Home portfolio is the initial phase of a proof of our sincerity and commitment to deliver relevant IoT products, with the latest technology, to improve the quality of life for urban communities. Connected with the IT Smart application developed in collaboration with Tuya Smart, all IT Smart Home devices can be controlled easily through one application, making it an integrated product ecosystem," said Andre Tanudjaja, Project Director, IT: Immersive Tech.
"IT: Immersive Tech and Erajaya Active Lifestyle are important partners for Tuya. We are proud to be able to provide our services to assist IT Smart Homes to come to market quickly at an attractive price level. We hope that in the future we can jointly develop innovative smart home products to meet the growing market needs. Hopefully, the smart home market will be more excited and inspired by the success of IT Smart Homes," said Ross Luo, General Manager of Asia Pacific Region from Tuya Smart.
IT Smart Home presents 8 superior products with quality designs and materials, best in class. The product ranges are: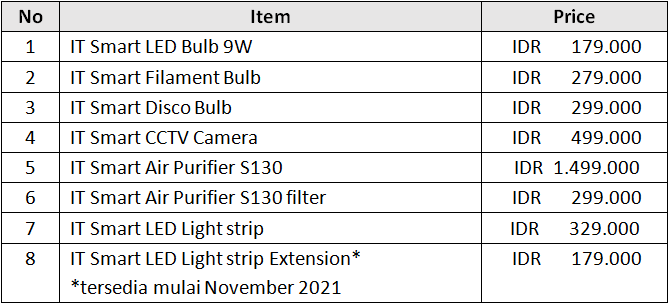 During the launching period from October 25 - November 7 2021, consumers will be spoiled with attractive offers** such as:
Discounts up to 10% for all IT Smart Home products
Special price for IT Smart Bulb bundling, up to 23% discount
Special price for IT Air Purifier and filter bundling, discount up to 17%
Exclusive promo at Tokopedia, discounts up to 23% and cashback up to Rp 50,000
Extra cashback up to IDR 100,000 for purchases using a DBS Bank credit card
During the launching period, online purchases of IT Smart Home products are only available exclusively at the official IT store: Immersive Tech in the Tokopedia marketplace. In addition, the IT Smart Home product range will also be available in more than 70 offline retail outlets throughout Indonesia, such as Urban Republic, Erafone, iBox, and other local electronic retail outlets. In the future, this product can also be obtained on the LiveWithIT.id e-commerce website and official IT stores in other marketplaces, such as Shopee and Blibli.
To provide peace of mind to customers, IT Smart Home products are equipped with an after-sales warranty of up to 3 years*.
*Research Analytics Insights, January 2021
**T&C Apply
For further information, please contact:
Diah Kencana Sari
Public Relations Erajaya Group