Jakarta, 2 June 2021 – On Monday, May 31, 2021, the IT ecosystem brand (Immersive Tech) launched its newest product, the IT Intercom Bluetooth Headset. This is a helmet accessory audio device, to connect bikers with phone features, music players, navigation and more. In addition, the intercom feature contained in the IT intercom bluetooth headset is able to connect this device to fellow users with a bluetooth connection, so that communication between drivers becomes easier and safer while travelling.
"According to data from the Central Statistics Agency, the number of registered motorcycles in Indonesia this year will reach more than 133 million people, or half of Indonesia's population. The need to always be connected while riding the motorcycle is important for this segment. In accordance with IT's vision to provide solutions to the problems faced by urban communities today, with all the busyness and demands of their lives, this time IT presents accessories products that allow motorcyclists to stay connected during the trip, without compromising safety and comfort. This product will complement the IT product ecosystem, which brings cutting edge technology, and has the best quality and design in its class, but while maintaining an affordable price level. We believe that this product will be accepted by the wider community of motorcycle owners and motorists in Indonesia," said Andre Tanudjaja, as Product Director IT.
IT presents 2 (two) variants of the bluetooth headset intercom model that can be selected according to the needs of its users, with the following specifications and prices: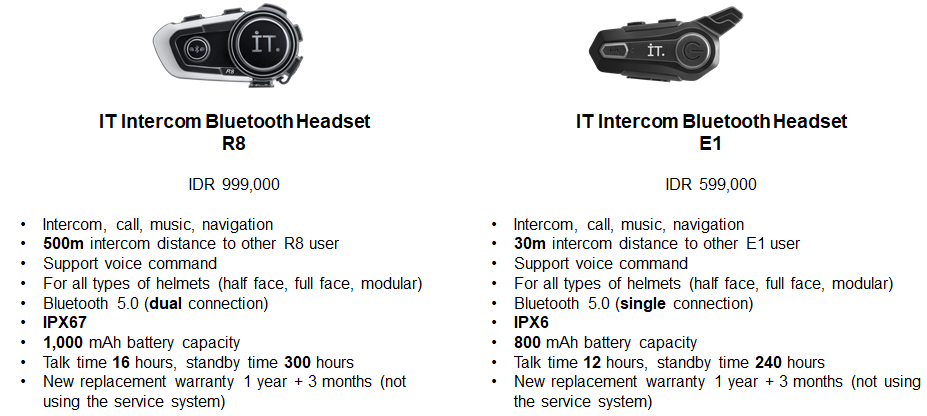 To add comfort to the user, the IT intercom bluetooth headset speaker is mounted into the available hole on the user's helmet, so it doesn't make the helmet feel narrower or block when using it. Thus, the speaker on the IT intercom bluetooth headset does not stick directly to the user's ear and makes the sound of the surrounding road conditions still audible.
During the launching period from May 31 to June 13, 2021, these two products are available exclusively on the e-commerce marketplace IT Official Store Tokopedia, the Urban Republic Store outlet network and the online platform Urbanrepublic.id. Customers who buy 2 (two) IT intercom bluetooth headsets in one transaction will get a discount of Rp. 200,000*.
After the launch period is over, the two products will also be available at selected Erafone outlet networks, e-commerce marketplace IT Official Store at Shopee and Blibli, as well as motorcycle and helmet dealers selling accessories.
*Terms and Conditions apply.
For further information, please contact:
Diah Kencana Sari
Public Relations Erajaya Group